More atrocities... when will it end??


Sick Isis militants burn alive 19 Yazidi women in iron cages for 'refusing sexual jihad'


By William Watkinson
June 3, 2016

Islamic State (Isis) militants have burned to death 19 Yazidi women in iron cages for refusing to have sex with the sick jihadists, say reports. The horrific slaughter of the women was said to have taken place in the Daesh (Isis) stronghold of Mosul in northern Iraq.

The UN estimate that IS are holding between 1,800 and 3,500 Yazidi women and children captive after their spiritual home near Mount Sinjar, in the war-torn Nineveh Province in Iraq, was overrun by the jihadists in August 2014. Somewhere between 2,500 and 5,000 Yazidi men were massacred by the extremists whilst the women and girls were kidnapped.

But thousands have been forced into so-called 'sexual jihad,' being traded by the jihadists, with some being handed over as prizes of war or to settle debts. This fuels an illicit economy, with some of the slaves being offered on social media sites such as Facebook.

According to ARA news, but not verified by IBTimes UK, 19 of these sex slaves were marched to iron cages in central Mosul and burned to death in front of crowds of people. A local media activist, named as Abdullah al-Malla, said: "They were punished for refusing to have sex with ISIS militants. The 19 girls were burned to death, while hundreds of people were watching. Nobody could do anything to save them from the brutal punishment".

In August 2014, IS took over the Yazidi region of Shingle in northern Iraq, causing a displacement of nearly 400,000 people to refugee camps around the Middle East. Last year Kurdish Peshmerga forces in Iraqi Kurdistan, with assistance from US-led coalition forces, liberated large swathes of Yazidi land from IS.

In those liberated towns and villages more than five mass graves of men, women and children were discovered buried in shallow graves. The UN Security Council said that the organisation are guilty of heinous crimes that may amount to a genocide.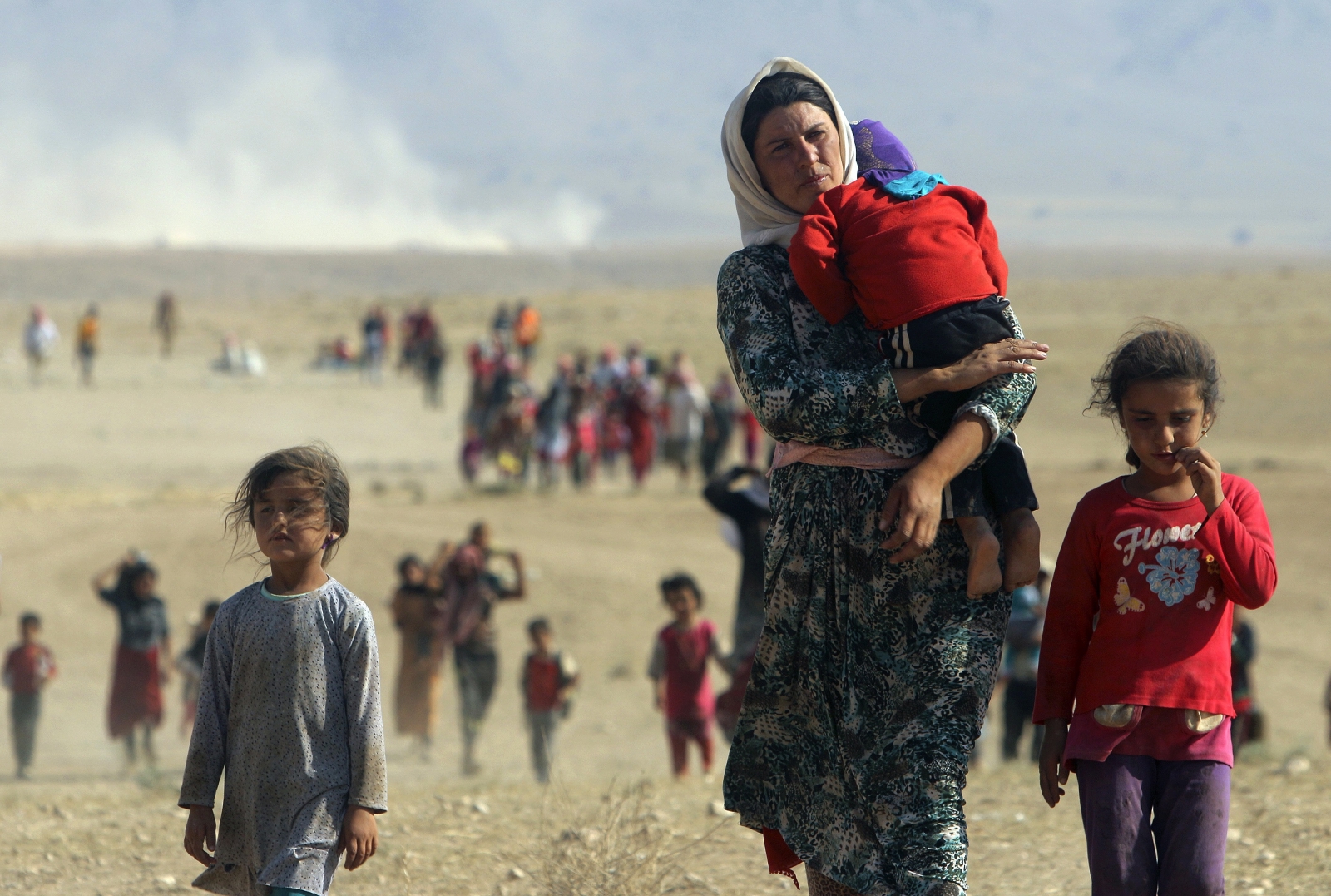 (

Displaced people from the minority Yazidi sect flee violence from forces loyal to the Islamic State in Sinjar. Reuters





Yazidi ISIS US Islamic State


Thousands of Yazidi women are being held by Isis as sex slavesReuters
The international NGO the Human Rights Watch (HRW) say on the matter: "Many of the abuses, including torture, sexual slavery, and arbitrary detention, would be war crimes if committed in the context of the armed conflict, or crimes against humanity if they were part of ISIS policy during a systematic or widespread attack on the civilian population.

"The abuses against Yazidi women and girls documented by HRW, including the practice of abducting women and girls and forcibly converting them to Islam and/or forcibly marrying them to Isis members, may be part of a genocide against Yazidis."

http://www.ibtimes.co.u ... ihad-1563593